Chaoscube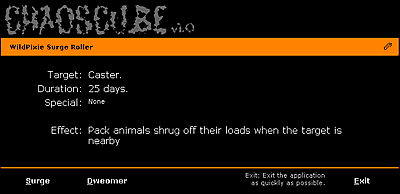 About
This application assists the DM in rolling millions of random wildsurges based on a large list of wild surges.
What is included:
7000 Different base surges and hundreds of target types and durations make for an unlimited number of possible surges.
Special Effects like 'cascade' (roll additional surge), 'insight' (caster knows surge effects), 'delay' (surge is delayed to next round) or 'Mold' (Wildmage can choose to reroll surge).
Minimum System Requirements
Intel Pentium processor
Microsoft Windows 98
128MB of RAM
Up to 5MB of available hard-disk space